Custom Light Painting Portraits at YOUR event!
Make your event spectacular. People LOVE to get getting light painting portrait done of them. It's spectacular, fully unique, absurdly fun, and unbelievable. Your event be a blast and people will remember it forever. It's perfect for...
A convention floor booth: Your booth will the main draw at the convention.
Corporate parties: Make light painting be the center-piece of the party.
Weddings: This is one of the best ways to assure that your wedding is spectacular.
The visual-effects are not created digitally. It's all moving lights around in front of the camera.
Fame in front of millions of Americans
I created and perform in the group The Aurora Light Painters. We were on Americas Got Talent and were hailed as "Spectacular!"
"I've never seen anything like this. I loved it!" - Howard Stern
"This is what we look for" - Howie Mandel
"Spectacular" - Sharon Osbourne
"Amazing" -Nick Cannon
America's Got Talent
Strata 2017
OSCON 2016
Percona 2016
More light painting fun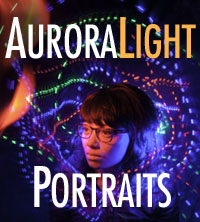 Speed, creativity, flexibility, and reliability
For years Julian haa been doing creative fast paced light painting portraits at corporate events, conventions, weddings, and parties. 99% to 100% of the people photographed get a great light painted image of themselves. It's through many years of light painting experience and skill that this is possible.